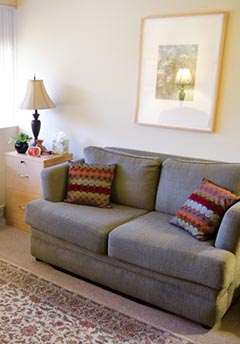 Appointments
Hours
Weekdays by appointment.
Sessions run 50-55 minutes.
Fees
Session fee is $155, paid at each appointment.
I accept checks, cash and most major credit cards.
Phone
You may leave voice mail at any time.
Crisis calls are $80 per half-hour.
E-mail
You are welcome to e-mail me regarding scheduling.
I do not offer counseling via e-mails.
Insurance
If you choose to bill your insurance company, I will provide a monthly statement.
Ask your insurance company if they cover "out-of-network" providers.
Cancellations
Please cancel 24 hours before your appointment, or you will be charged the full fee.
Confidentiality
Everything that takes place in session is kept confidential.
These exceptions I am mandated to report
imminent homicide
child abuse
dependent-adult abuse
elder abuse